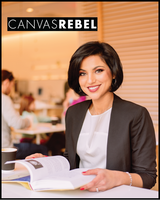 Interview Feature in CanvasRebel Magazine
"When I first started 1Eatz, I had to let go of the "structure" and learn to work in an ever-changing, and at times chaotic, environment. This is what they truly call wearing-all-hats. Although challenging, I have loved every minute of it and achieving success in my business has been one of the most rewarding experiences of my life." - Sana
READ FULL INTERVIEW
Our Feature in Voyage Raleigh's Most Inspiring Stories
"Happiness to me is hearing from and talking to 1Eatz' customers. I love it when someone reaches out via e-mail or social media with feedback, suggestions or just to say hello. Since we are primarily an online store and don't have a physical location, this interaction means so much to me." - Sana


READ FULL INTERVIEW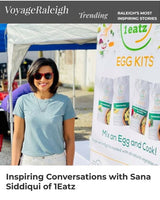 TV APPEARENCES
"Eat & Drink Local" on WCNC TV of Charlotte, NC
Food & travel writer Heidi Billotto talks about 1Eatz Egg Kits on WCNC TV's Charlotte Today segment "Eat and Drink Local"
"𝙏𝙝𝙚 𝙢𝙞𝙣𝙪𝙩𝙚 𝙄 𝙨𝙖𝙬 𝙩𝙝𝙚𝙨𝙚 𝙄 𝙩𝙝𝙤𝙪𝙜𝙝𝙩, '𝘽𝙧𝙞𝙡𝙡𝙞𝙖𝙣𝙩!' 𝙏𝙝𝙞𝙨 𝙣𝙚𝙬 𝙍𝙖𝙡𝙚𝙞𝙜𝙝-𝙗𝙖𝙨𝙚𝙙, 𝙬𝙤𝙢𝙖𝙣-𝙤𝙬𝙣𝙚𝙙 𝙘𝙤𝙢𝙥𝙖𝙣𝙮 𝙝𝙖𝙨 𝙩𝙝𝙚 𝙖𝙣𝙨𝙬𝙚𝙧 𝙛𝙤𝙧 𝙗𝙪𝙨𝙮 𝙢𝙤𝙢𝙨, 𝙥𝙚𝙤𝙥𝙡𝙚 𝙤𝙣 𝙩𝙝𝙚 𝙜𝙤 𝙖𝙣𝙙 𝙨𝙞𝙣𝙜𝙡𝙚𝙨 𝙬𝙝𝙤 𝙙𝙤𝙣'𝙩 𝙬𝙖𝙣𝙩 𝙩𝙤 𝙘𝙤𝙤𝙠 𝙢𝙤𝙧𝙚 𝙩𝙝𝙖𝙣 𝙩𝙝𝙚𝙮 𝙘𝙖𝙣 𝙚𝙖𝙩. - 𝗛𝗲𝗶𝗱𝗶 𝗕𝗶𝗹𝗹𝗼𝘁𝘁𝗼.
Cook Like the Pros" on WRAL TV of Raleigh, NC
1Eatz founder Sana demonstrates three simple and quick recipes using 1Eatz Egg Kits.
A Fun Q&A with 1Eatz' Founder Sana
Tabletop Media Group, based out of Raleigh NC, features 1Eatz founder Sana as their "Friend of Tabletop" in this fun questionnaire.
READ MORE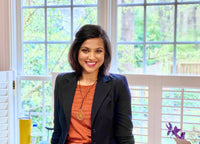 FEATURES BY FOOD BLOGGERS